Specialized
You may upload a
PNG or JPG
image for this guild.
Leader:
-Rico
Guild Level:
5
Members:
0 out of 132
Alliance:
No Alliance (Nothing)
Alignment:
Mixed Alignment
Server:
Rushu
No official website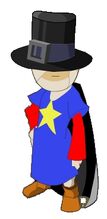 Further Info
Edit
Background Info
Edit
Specialized was a guild I joined a time ago. But after a while the former Leader went away. Now here I am, restarting the Guild completely,all former member except for me are gone, and I try to make it a Happy Guild. If you can agree with the rules, Have Fun! And I hope you have a great time in Specialized!
Required level
Edit
Normally I'd let people from lvl 17 join or even 10, but since I've had a little fight with someone in my last guild, about minimum levels, he has made me realize why lvl 25 would be fine.So if you're lvl 25 or near then you are welcome, but of course rules like that have exceptions!
List Of Rules
Edit
Be Friendly!
Don't Trade In Guild-Chat!
When You Plan To Do Something, Tell Everybody!
Talk English, It's Unpleasing to hear languages you don't understand.
If You Ever Decide To Leave The Guild, Tell The Leader!
A Little Bit About The Leader
Edit
Hey I'm Rico, I come from the Netherlands,
My Birthday is at 6 September.
I got the guild when I was 16.
In game I am a Xelor...
Sad enough, I'm F2P most of the time.
I'm always in for a little fun, and try to help as much as I can.
That's all you'll need to know, see you at Dofus, or maybe even in Sepcialized!