Mystic Symbolz
Leader:
Frosty-Coinz
Guild Level:
3
Members:
12 out of 131
Alliance:
No Alliance (Nothing)
Alignment:
Mixed Alignment
Server:
Shika
No official website
The leader of this guild is Frosty-Coinz. He has been playing for the past 2 years and this is his 4th account.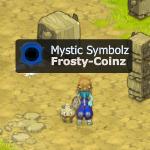 We are a slowly growing guild, hoping to get a paddock and a house a.s.a.p. Join now and you won't regret you choice.
ActivitysEdit
We do a lot of dungeon runs and other things like xp hunts, item hunts and more! We only have a limited amount of spaces so join now to avoid dissapointment!