Domination
Leader:
Kudo-Sensei
Guild Level:
102
Members:
180 out of 181
Alliance:
Demolition (Nexus)
Alignment:
Mixed Alignment
Server:
Rushu
No official website
Joining DominationEdit
Domination welcomes all members over level 180. Members must have a grasp on the English language, since English is used in Guild Chat at all times. Although Domination has many French speaking members, we have adopted English as a common language to facilitate communication between members. Abuse of guild-mates will not be tolerated in /g. This does NOT include swearing, but rather targets harsh, persistent and hateful speech directed towards other guild members. Spamming is not allowed in /g or /a. Guild and Alliance Chat are not to be used for selling items.
Who We AreEdit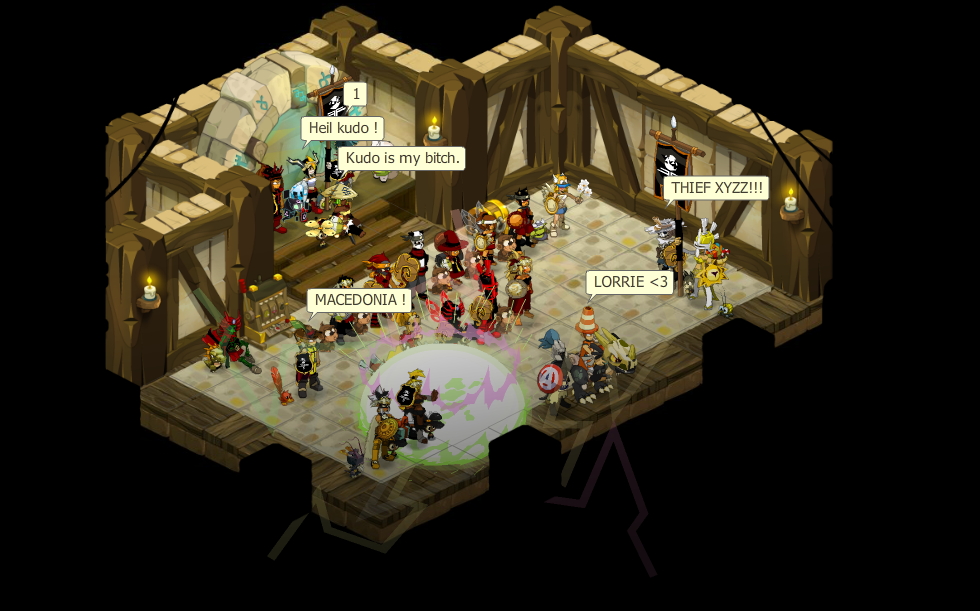 Domination is a Guild with a focus on player versus player combat and is the leader of the alliance NEXUS. Members are expected to have an interest in PvP combat and a want to improve their skills. DO NOT join a Perceptor defense unless you are at least level 199 and have experience in PvP combat.
LeadershipEdit
Leader
Kudo-Sensei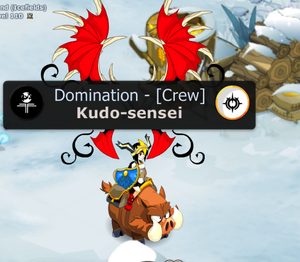 Second In Commands
In-Game Name:

Hyperiion

Pizza-Boytoy

Character Pic:

In-Game Name:

Paradise

Lelepap

Character Pic:
Kudu-Sensei- Kudo is busy pvp and leading. Do not disturb - Roni 2015
Pizza-Boytoy- English and French speaker living on the West Coast. Usually online at some point between 1:00-9:00 server time. Zaap-sitter, Breeder, Achievement Whore. I also enjoy long walks on the beach.
Hyperiion- English and French speaker. French Canadian. Very active player. Mostly pvm player, but trying to learn to become great pvper! My real name is Mike ;)PS: Lelepap is MY bae!!!
LelePap- Self concerned arrogant bastard
Guild RankingsEdit
Normal Ranks
Rank
Requirements
Rights
On Trial
Offline for more than 1 month

Deserter
Less than level 199

Manage own XP
Invite New Members

Apprentice
Level 199-200
~
Initiate
100,000 XP

Place Perceptor
Retrieve own Perceptor Loot

Poacher
500,000 XP
~
Secretary
1,000,000 XP
~
Guard
2,000,000 XP
~
Reservist
5,000,000 XP
~
Protector
10,000,000+ XP
~
Special Ranks Special Ranks are giving to members who have either completed a special feat or have a special status within the guild. Note: If you meet one of these requirements but would like another title, that can be arranged with the Guild leadership.
| Rank | Requirements | Rights |
| --- | --- | --- |
| Nuisance | You are especially annoying. Congrats | Based on Level and XP |
| Perceptor Killer | Best group PVPers | Be the main Perceptor Defender |
| Recruitment Officer | Main Recruiter | ~ |
| Counsellor | Alts that are above level 199 | Based on XP of main character |
| Murderer | Top 1v1 PVPers | ~ |
| Treasure Hunter | Top Guild Achievement Score | ~ |
| Diplomat | Alts of other Guild Leaders or SiCs | ~ |
| Craftsman | All Professions at level 200 | ~ |
Ad blocker interference detected!
Wikia is a free-to-use site that makes money from advertising. We have a modified experience for viewers using ad blockers

Wikia is not accessible if you've made further modifications. Remove the custom ad blocker rule(s) and the page will load as expected.