Guild Info

Edit
Average level of the members: 12x
Minimum level to join Defiance is 90.
We have two houses in Bonta, including a Jeweler's house.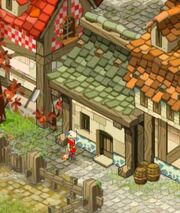 To place or collect from a perceptor, you must have contributed a minimum of 10,000 Exp to the guild. If you place a perceptor, only you collect from the perceptor.
Guild members level 100 or more are expected to act as protectors. If a perc is attacked, protectors are expected to rise and fight for it.
To access a paddock, you must have contributed a minimum of 20,000 Exp, and to outfit the paddock, a minimum of 30,000 Exp.
We have two paddocks, both in the butcher's district.
All members are set to contribute a minimum of of 1% Exp. You can give more if you want. The more Exp you earn for the guild, the more rights you will have.
Defiance is a an all-inclusive Guild, with active members in all Solar alignments. :)
Contact these guys for more info

Edit
Cipherenu: Guild Leader
silverhair: Second In Command
Ad blocker interference detected!
Wikia is a free-to-use site that makes money from advertising. We have a modified experience for viewers using ad blockers

Wikia is not accessible if you've made further modifications. Remove the custom ad blocker rule(s) and the page will load as expected.