Deadly Deeds
Leader:
Missing leader
Guild Level:
12
Members:
49 out of 136
Alliance:
No Alliance (Nothing)
Alignment:
Mixed Alignment
Server:
Solar
No official website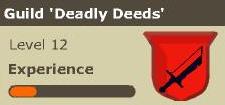 (I tried to name it "Deadly Deeds Done Dirt Cheap" after our old Mercenary unit's slogan from an old Mechwarrior/Battletech campaign but it was way too long and the text cutoff)
Founded: 03 Dec 2008
Our very first Guildhouse down south of Astrub
Edit
And our first Paddock in the FREE zone S/E of Astrub
Edit
Level restrictions and requirements to join:
Edit
) Minimum Level= 10+
) Actively played Character
) Minimum XP donation 5% until 20000 is given to guild, then a lowly 3% minimum is requested. (Note- 10% on trial)
Ranks and associated information:
Edit
Your rank and privileges are determined by: Your level + the amount of experience you donate to the guild to help it grow and acquire additional houses and paddocks. This also helps make our guild Perceptors stronger to defend themselves from idiots and organized Perc hunters.
If you want higher rank faster then set your XP donation accordingly. You have full control over your rank, or lack of it, in the guild.
Inactive or non-contributing members will be queried and warned if they can be contacted by an officer to see what's going on. Inactive players will be kicked out to make room for new members as required whenever the guild reaches or nears maximum members.
If you will be away for a while like on vacation, make sure you let us know and we'll set your rank to "Reservist" indicating not to kick you out for inactivity.

Rank:, Min Level:, Min XP donated:, Guild Priveleges or Duties*:
) On Trial, 10, fixed 10%, Rest in Guild House.
) Initiate, 15, 5,000xp, Distribute XP, Invite Members.
) Apprentice, 20, 10,000xp, Use Paddocks.
) Scout , 25, 20,000xp, Place Perceptor.
. or
. Craftsman, 25, 20,000xp, *Level 65+ craft skill.
) Guard, 30, 30,000xp, Collect from Perceptor or Breeder, 30, 30,000xp, Outfit Paddocks.
) Protector, 40, 50,000xp, *Defend Perceptors.
. or
. Guide, 40, 50,000xp, *Plan guild events, contests.
. or
. Treasure Hunter, 40, 50,000xp, *Plan dungeon raids.
) ?
x ) Second in Command, 60, 100,000xp, All Rights.
x ) Guild Leader, 1, 1xp, All Rights (obviously).
x ) Merchant, n/a, n/a, Leader or 2nd's dedicated guild money-maker.
NEWS, NEWS, NEWS!
Edit
Check here for latest guild news, events, and messages!
26 Mar 2009

Field Dungeon runs planned for Friday (tomorrow) nite!

25 Mar 2009

Quick and dirty draft done on our guild page on Guildopedia.