Allies
Leader:
Wound
Guild Level:
53
Members:
48 out of 156
Alliance:
No Alliance (Nothing)
Alignment:
Mixed Alignment
Server:
Rushu
No official website
Allies is a new fun and active guild in the Rushu server. Its current average level is 154. Entry requirments are not strict, but a minimum level of 100 is recommended along with a reasonable amount of autonomy in the game. The guild leader is a level 200 sram that goes by the name of Wound, who is seconded by co-founders Karkana and Exors-piege.
Rank Regulations
Edit
The preliminary rank rules consist of a one rank increase per 15,000 xp donated to the guild. The titles of Treasurer and Second in Command are reserved, however, to old and trusted members so as to maintain a regulated environment.
Rights Regulations
Edit
Some rights are unlocked when specific conditions are met.
Manage on XP contribution: Members can always manage their own XP contribution, however, it is recommended to keep the minimum percentage donated to 3% as a show of good faith.
Invite new members: This is unlocked only after a minimum of 500,000 XP has been donated to the guild and a minimum of two months have been spent with the guild.
Place and retrieve loot from a perceptor: This is unlocked if one of the following two conditions has been satisfied.
A minimum of 500,000 XP has been donated to the guild.
The member is wearing a piece of the Alyverol set.
Use paddocks: A minimum of 600,000 XP has been donated to the guild.
Current Assets
Edit
Our guild is constantly attempting to expand its asset holdings throughout the World of Twelve.
The guild currently owns five houses (although more will be added every 10 levels), of which three are in Frigost Island. Two of our most used houses are located at the Frigost Village zaap.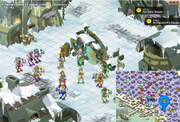 One (6 mount) paddock so far. Numbers will increase in the near future.
Guild Allies
Edit
Ten Inches Unbuffed
Order of the White Wings
Dark Side of the Moon
Action Bastards
Current Members List
Edit
More About our Members
Edit